Description
Is food supplement provides men with the best nutrients optimized for reproductive function and sperm wellness; with Coenzyme Q10, some excellent bonus benefits are added to energy, balance, and overall health.
GIVE THE POWER TO SPERM POTENTIAL FOR PREGNANCY
General health before pregnancy could profoundly impact fertility and the baby's health.
INCREASE SPERM COUNT AND QUALITY
All men produce millions of new sperm daily, and it takes about three months for them to fully mature. Quality and quantity are both necessary for successful conception.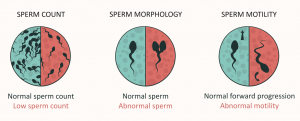 PRESERVE SPERM STRENGTH TO SUCCEED IN FERTILIZING THE EGG
Up to 50% of a baby's genes originate from the sperm, and if the sperm is not healthy enough, it won't be able to preserve that material or properly penetrate the egg.
KEEP SPERM HEALTHY TO IMPROVE MEN & WOMEN FERTILITY
The most common cause of sperm deficiencies is nutrient shortages. Like women, men's bodies need different vitamins to help produce healthy baby-makers.
Spermacure reinforces that taking the male fertility supplements takes about three months to ensure your sperm matures and strengthens. For truly optimal results, you should start taking Spermacure at least six months before trying to conceive.